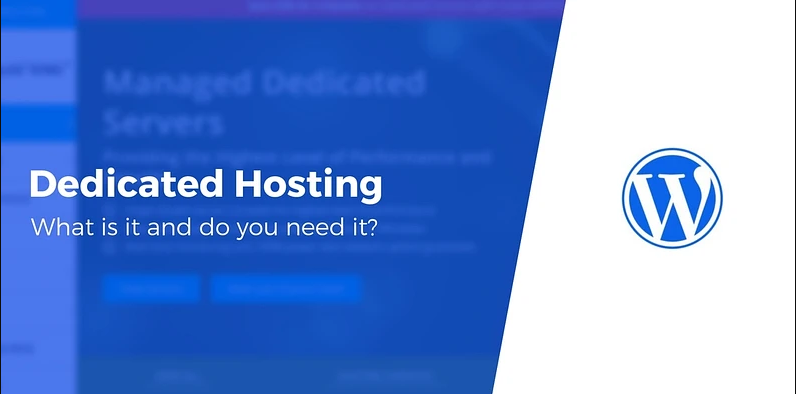 We know that web hosting is a digital infrastructure that hosts your website. Not all of us have access to the necessary resources, such as servers, computers, or technical expertise.
That's the reason, you should go for a web hosting service provider which will allow storage for your site upon this server.
Users only have to type in your site's URL or domain name in their browsers and view your websites on their monitors.
Hence, a dedicated hosting server will eventually be an alternative, but you're not sure your website needs one. So, to assist you in making a decision, here are a few things to consider.
A Dedicated Server: What is it?
One person, one business, or one app can employ a dedicated server, which is a virtual server.
In short, a dedicated server does share it with another application or company as other servers do. You will always receive the resources that typically come with a virtual private or shared server.
Still, you could notice a huge difference in security and performance compared to a dedicated server.
Dedicated servers often are purchased by customers and managed by an MSP, cloud, and hosting, like VNET India.
The perk would be that the service offering web host customizes, maintains, and manages the server for you rather than just hosting the system on-premises.
As the business expands, dedicated servers and remote access help keep your personnel from becoming overworked if it has been stretched too thin.
If you can handle the technicality by yourself or by hiring a team, you have complete control over the server.
However, because of its shared structure, you won't have this choice if you select a VPS (virtual private server).
Dedicated servers also provide remote access, enabling development crews to connect to the server wherever they want to work. Geographically dispersed firms have an added advantage here.
How Do Dedicated Servers Stack Up Against Other Hosting Platforms?
Possibly many websites are stored on a server when you use shared hosting, as you are already familiar with.
This version is adequate for individual blogs and tiny enterprises. But since you cannot adjust things on your own, it isn't the ideal solution in terms of efficiency, and also, you lose out on versatility because of sharing with others.
A VPS, however, still allows your site to share a server but offers it a private area that is isolated from other websites.
Your website's efficiency will probably be more reliable because it is shielded from outside visitors. Additionally, you have a bit more freedom in terms of your server configuration.
These plans are an excellent compromise for individuals wishing to upgrade since they may provide you with the frequency you are looking for at an affordable rate than dedicated hosting. The best option is dedicated hosting if you require the most significant capability for your expenditure.
The issue is an expense, which can reach three figures a month among some, as you might anticipate. Luckily, it could be worthwhile when your site requires one to manage its volume.
Dedicated Hosting: Why To Switch?
We have discussed that dedicated and cloud hosting servers are among the most powerful server solutions accessible.
But you could be wondering if you want it. Check out these four justifications for reaching for your wallet!
● Performance
You can obtain exceptional outcomes due to high traffic if you spend premium plans on your shared hosting server.
Performance won't be a significant concern for you if that's the scenario. If not, it will be vital to have a fair grasp of your platform's traffic volume to assess the possible benefits of converting to a satisfactory dedicated server.
● Security
A dedicated hosting server has significantly better security, which is crucial.
There is a reasonable probability that every website on a shared hosting server could become compromised when one of the websites there is compromised. The server's entire collection of websites is vulnerable if just one of them has a bug.
This has two potential sides. With a dedicated hosting server, you have more flexibility and are thus liable for security.
It's a great idea to configure servers to maintain themselves using the latest security updates published by service providers. However, you must also ensure the quality of your program.
● Server Options
Finding out that their existing WebHost does not offer the server alternatives they desire is among the most frequent problems that companies encounter in the development stage.
Encoding and Language settings, restricting access to specific files or directories, or even banning particular browsers from a website are all aspects.
Although limiting browsers could seem strange, it is conducive since it could assist web crawlers and spiders to irregularly eat up site bandwidth.
The issue is that doing so involves installing and activating the Apache mod rewrite script and configuring the Apache server to view the .htaccess file, which most often happens.
● Server Resources
In most cases, a dedicated hosting server is rented rather than owned; however, practically, it is yours and functions as a complete PC.
Additional RAM is available if you desire. You can get a faster CPU if you like. With this management level, your server can be scaled much more efficiently for your website.
Websites that provide a range of big files or feature a load of pages may have storage limitations when operating on a shared hosting server.
Although a dedicated hosting server can provide you with GBs (Gigabytes) of room for your business, it's preferable to consider upgrading your shared server until you require that amount of space or possess other needs.
● Is it the right time to migrate into a dedicated server?
It's unnecessary to cancel your shared servers just because company traffic somewhat increases over time.
Before switching to dedicated servers, you should consider upgrading your current package. Do not forget that growth does not always occur at a constant rate.
You may rapidly reach 3,000 to 4,000 visitors per month; however, this doesn't assure that you'll keep adding 1,000 people every month. There are scenarios where websites get market dominance and stop expanding after that.
You probably won't make it beyond 5,000 in case there are only 5,000 users in the universe who genuinely like a similar thing. In this situation, it's simple to get 5,000 visitors.
Therefore, don't view just several months of growth as indicating that you should cancel your existing plan (shared hosting) package and rapidly scale up.
Switching to a new kind of hosting, such as cloud hosting servers, is a different choice you should consider. Moving to dedicated hosting servers makes sense once you surpass a public cloud option.
Before switching to dedicated server hosting, you might wish to consider cloud hosting servers if you exceed the shared hosting server.
Dealing with cloud servers provides you with more flexible alternatives than shared servers. It won't cost you the larger price of a dedicated hosting server if resource and management are your main concerns.
When Should You Move to a Dedicated Server?
Explore these signs if you are already running your domain on a shared hosting server however believe you will eventually have to move to a dedicated hosting server. These reasons are enough for you to acknowledge if it's the right time for the switch.
● When The Number Of New Visitors To Your Website Each Day Hits 1,000
Websites with lots of regular newbies do well with shared hosting. At that point, the shared hosting can easily provide services and pages that load quickly.
If the number of regular unique visitors exceeds 1,000, it becomes considerably more difficult for shared hosting to offer the website an excellent quality of services.
The shared hosting resources are distributed across the several sites that use it. It's possible that a website with a lot of traffic needs more significant resources compared to what a shared server could offer.
A move towards a dedicated server could be necessary if you discover that your site frequently receives more unique visitors per day than 1,000.
Although your consumption does not exceed the 1,000 thresholds, you can still wish to take a dedicated server into account.
A decent thumb rule is that sites should be capable of managing a surge in traffic that is 30x greater than usual.
Due to their capability, they can handle spikes in traffic brought on by sales, special occasions, or seasonal fluctuations in online traffic.
A dedicated server could be ideal if you have more than 1,000 unique daily users at a 30x rise in your typical web traffic.
If your site has problems no matter how much traffic it receives, you might also have to keep in mind switching to a dedicated server. The concerns are examined in the paragraphs that follow.
● If You Intend Rapid Growth
If you expect considerable development for your site in the upcoming weeks or months, you could wish to shift to a dedicated server. You will probably switch off to dedicated hosting for a more extended period if you wait unless your site's traffic and size levels become a problem.
You will probably have problems at that time that are hindering your users from having the best possible experience on your website.
That shows that you have gradually lost clients and revenue. Allow yourself a chance to switch to a cheap dedicated server and establish your own before your site demands outgrow your shared service's capacity.
You can continue to provide your web users with the best possible encounter by doing this.
● If you have issues regarding website load times
A slowdown in page loading is frequently among the first symptoms that your site's requirements are outpacing your shared hosting. High bounce levels result from users leaving your pages after three seconds if they take more time.
Multiple factors affect how quickly a page renders. Your site pages can be the root of the crisis. Pictures that are excessively huge to load rapidly are one example of a potential problem. Though you may want to think about switching to dedicated hosting if you've optimized your sites but still have sluggish page loads.
By granting you complete control of the server's assets, the dedicated server could increase the speed at which your pages load. You will benefit from quicker startup times and happy site viewers if you don't share these components with other sites.
● If You're Running Out Of Storage Space
You only get a specific volume of web storage with shared servers. Every site incorporating the server should split its storage space equally. The amount of storage currently offered is often adequate for basic websites.
But you could expand your website's information and several pages in the future.
You could discover that you need additional storage when your site becomes more complicated and services like movies, online forums, or lengthy blogs are added.
A migration to a dedicated server may be helpful if you are approaching the storage limit of your shared hosting.
● If Safety Comes First
Smaller websites often don't need to worry about privacy on shared servers. Data from your website is safeguarded by firewalls as well as various security features.
Moreover, there has to be a chance that your site may be highly exposed to a security flaw if another location on the server is compromised.
Additionally, certain firms have more essential security requirements. They handle a lot of private information that is either extremely sensitive or in enormous quantities.
The strict security measures offered by dedicated hosting, which are also scalable, may be advantageous for these companies.
As the demands on your site increase, switching to a cheap dedicated server might help you benefit from more resources and better privacy.
Shared hosting would not be capable of accommodating the installation of customized services to your site; thus, making that shift can assist.
Need Assistance with Management?
● Managed Dedicated Server
Extra support with maintaining your server and website is another benefit of a dedicated server. Although you officially receive this service via a VPS or a shared server, the cost to you is substantially cheaper.
You don't even use up One-Hundredth or One-Tenth of the storage that a dedicated server hosting operator does.
Customer support may be included in that occupation level. It shouldn't, yet it is possible. Greater service precedence could be given if you invest more.
More flexibility and control features are available with dedicated hosting servers compared with several shared services.
Over the Operating System, security, and software, you have far more authority. You also receive the necessary experience when choosing a dedicated server hosting option.
● In-House Servers
Owning and maintaining your servers would be the alternative method for a dedicated server.
However, you will be in charge of the servers' maintenance and working, which might ultimately be a more budget-friendly option to handle your site.
If your website is expanding and getting more success day by day, choosing an In-house server is a great choice.
Yet, if the administrative assistance sounds impressive, you could wish to move to completely managed servers.
Overall Verdict
Numerous factors, particularly your web server, affect your website's performance. Maintaining your site on a web server with insufficient capacity can negatively impact the efficiency at which your website loads.
As a result, the user interaction of your visitors, making them less likely to revisit your site. This is the perfect moment to move your website hosting plan to a dedicated hosting server.
Call To Action:
Company Name: VNET India
Company Website: https://vnetindia.com/
Address: First Floor, 32, Kamatchi Amman Kovil Street, White Town, Puducherry, 605001.
Official Email: info@vnetindia.com
Reference:
https://www.hostgator.com/blog/upgrade-dedicated-server/
https://www.bluehost.com/resources/when-should-i-invest-in-a-dedicated-server/#:~:text=If%20your%20website%20sees%20high,than%20a%20VPS%20hosting%20service.
https://www.bluehost.in/tutorials/when-is-the-right-time-to-shift-to-the-dedicated-server
https://hostingreview.com/web-hosting/at-what-point-should-you-transfer-your-website-to-dedicated-hosting/